ALLABOUTJAZZ.COM
August 2002
By R.J. DeLuke

Patricia Barber: Complete; Not Complacent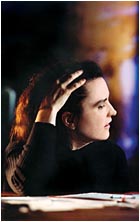 Patricia Barber

It's good to be Patricia Barber these days. The singer/pianist with the deep, winsome voice admittedly in a good place, getting gigs, getting recognition, amassing a following that, while not Diana Krall-ish in number, is strong and growing. And she's about to release a new CD on Blue Note, comprised of virtually all original music (one song is Verlaine prose adapted to her music).

Verse, coming out this month, is also produced by Barber, and while the process of having to wear many hats -- singer, pianist, arranger, bandleader -- and straining with the reins of production can run her ragged at times, she's proud of the disc, and happy to trade off the exhaustive work in exchange for having full control of the final product. That integrity -- that strength of artistic vision and desire to see it through -- is important to her.

Bravo.

What she's produced, Barber says, is a piece of work that expresses her art and that is consistent with her artistic journey and her principles. Consistency is what she is seeking throughout, even as she eyes, off in the distance, her next project.

The sultry, almost mysterious deep voice of Barber is unique on the current jazz scene. She caresses lyrics in a different way, even when the tempo is faster. On slower tunes, with her intimate lyrics, she seduces you in, welcomes you to her world expressed in a poetic style of lyric writing.

She's been widely praised as the next hip thing, and called "the Ice Queen from Hell" by critic Will Friedwald for a style he perceives as standoffish. But she's comfortable with who she is and what she does. Her vision is as clear and strong as her speaking voice and calm, thoughtful nature. She appears to be able to handle anything, the praise or the criticism. The praise is quite warranted.

"I probably would sell more records if I did things a different way, but then I wouldn't be quite happy. I can't really complain--I've done well. I've been very careful all along. Even when I was working bars, I was very careful with my money. I have a nice lifestyle," she says. And her audience may not fill stadiums, but it's there. It waits for her next work. It listens. It appreciates that Barber is an artist who is reaching.

"You have to content yourself, perhaps," she ponders, "with being more important to fewer people. Sometimes you feel bad that you're not selling a million records, but then you wouldn't be on the cutting edge of anything. They're incompatible. They're mutually exclusive. So you just have to make that choice and I think I've made it, so I have to live with it."

"It's an art thing," she discloses. "I don't know why people do art. Why does Dave Douglas keep doing what he's doing? He's so prolific and he's so incredibly good. You wonder why anybody does that. He's an artist, that's why."

So Barber keeps working, keeps looking for more, both as singer, writer and pianist. She's been through the bars and smoky, crusty clubs of Chicago, where she was born and raised. Patricia Barber is someone we're going to hear from for a long time. Thankfully.

"I'm still practicing piano. I want to be as good as Keith Jarrett and Brad Mehldau. I keep thinking I can get it," she chuckles, "I'm gonna nail this, you know?"

So adamant, is Barber, about improving her piano chops, she plays a weekly gig in the Chicago suburbs with a bass player where she doesn't sing. She just works out on piano in a restaurant that she won't name, though she admits, "People know about it by word of mouth now. They're starting to crowd around the piano."

But she does know where her strengths, and career, lie. "I think because I'm a singer, I probably work more. It seems to be something people relate to: the voice over the instrumentation."

Since she came onto the scene with Café Blue in 1995 (garnering much more attention then her earlier A Distortion of Love), Barber has been gathering steam. Her years of paying dues in the Windy City's club scene -- "a lot of years of smoke and late nights" -- have paid off.

Barber said she started hearing the music for Verse three years ago, feeling it as a guitar-influenced album; a Joni Mitchell-influenced way of expressing jazz, but funneled through Barber's intimate, personal touch. It doesn't even feature her strong piano playing (fine this time around, she says, because it made producing the recording a bit easier. When she produced her previous CD, Nightclub, "there were times I thought I would keel over" from exhaustion, mental and physical).

She said there is no theme to the lyrical CD; it's really about songwriting and about her feelings. Writing, she said, is a laborious process. She doesn't just churn things out for the sake of getting something out. The technique is different too. "Sometimes the writing is music driven and sometimes lyric driven," she says.
Patricia Barber
Verse
Blue Note/Premonition
The new disc is a collection of songs expressing different feelings in different ways. Like so many of her tunes, it often seems to be poetry put to music. Not your mother's poetry. Funky. Earthy. Quirky. Funny. Cool. It has nods to the likes of Cole Porter, but also Mose Allison.
The lyrics are heady; they take some thought, but it's worth it. Irony, humor and dead-on emotional bullseye are some of the things you'll find in them. The disc also carries some rthymic twists, rhythmic drones, and the trumpet of Dave Douglas splashing colors in various spots to augment the proceedings.
Like "Eat Your Words," a seduction piece, she says, envisioned as a student's perhaps somewhat taboo feelings for a teacher.
philosophy engenders a rational man
Descartes would be the first to agree
syllogistically speaking if 'A' is you
and 'B' is me
logical progression will lead to 'C'
Barber was always into music. Her father, Floyd "Shim" Barber, was a Chicago saxophonist who played with the likes of Glenn Miller. So her interest in music was early, and not influenced by the music most common on the radio or on turntables during her youth. She loved Judy Garland.
"The Beatles? I didn't like them. I definitely didn't like the Rolling Stones. I didn't really get any of that stuff. So the music of my time, I didn't really get. I was listening to what I guess you call the classic American songsters. Frank Sinatra. I wasn't really into the really hip people, like Sarah Vaughan, until high school. And Miles Davis." Her influences eventually included Sheila Jordan, Shirley Horn, Keith Jarrett and Chick Corea and well as Miles and Joni Mitchell.
In high school "I was one of those band kids. I was always in all the festivals. I really loved music. Played every instrument. I didn't start singing until the high school music, tryouts for the musical. I tried out and I got the part. Then I really didn't sing again until I got to college. There was a note on the board for a girl singer in a pop band. And I needed the job, so I applied. And I got the job. Then I had to figure out how to sing. Because I was a musician, I kind of knew how to sing already. It was relatively easy, actually."
"I was a classical piano major at the University of Iowa. And a psychology major. The psychology major was to give me an out," she said slyly. In the event music didn't work out, "I could go to law school or medical school or something. My father was a jazz musician, but nobody wanted me to do that, because he died an alcoholic. So I was trying to do something in music -- but safer. In the end I decided that the jazz musicians were just having more fun than the classical musicians, so I called my mother and said I was going to go into jazz."
She stuck with her decision -- "stupidly," she jokes -- from her senior year in college. And there were, typically, a lot of lumps to take along the way.
"Tough. Really tough. Chicago was a big city and we have some very sophisticated musicians here and I wasn't really ready for the big time at all," she says. "The singer got a lot of the work, then the pianist had a lot of catching up to do."
The gigs took her "all over Rush Street, the typical Chicago places; all mob joints. We just had a fabulous time. Those are really some of my best memories," she says. "All of the musicians helped me. Sometimes I would need a certain lesson from a certain pianist and I would call and have a lesson or two, or they'd help me on a gig; tell me what to study, what to listen to. Tell me what I was bad at."
Chicago's Green Mill also became a place that helped solidify her reputation, as it has for artists like Kurt Elling.
"I play there when I call them now, when I want a gig; I want to rehearse the band, or I put in some new material. I don't play there on a weekly basis because, frankly, I got too busy. I was on the road, and doing that gig after I got home was really tough," she says, adding, "The Green Mill is a fabulous place to play. It's a fabulous club. All the national acts are starting to get wind of it and go through there now."
So it's good being Patricia Barber. She likes where she's been and likes where she's headed. So does Blue Note, which will be handling her next project.
"Trying to figure out what my next project will be is a fun, period, because you kind of read a lot and think a lot and listen to a lot of music. So that's where I'm at right now." More original works are in the offing. "I definitely would like to continue that. It's a long thing. It takes me a long time to write music. I think I do way too much research," she says with a chuckle.
"I might do a live record. There are a lot of projects I'd like to do. I'd like to actually do more piano in recording. So there are things I would like to do in the meantime," she said, if Blue Note isn't patient enough to wait for more original compositions to spring from Barber's mind, to pen, to paper. "Even if they're not patient, I can't really speed up the writing process. There's nothing I can do really."
While things are going well, Barber is enough of a realist to know that fortune can be unpredictable and fickle. Nonetheless, she's prepared.
At times, "You have to put your head down and just pay attention to the music," she says. "They don't always like you, there's no doubt. It's not always easy. But if you really love what you're doing, what can they possibly do to you?
What of criticism? "I've had my share. I remember a period thinking, 'I wonder how Diana Krall could survive those reviews?' They were so mean and so cutting. She's a friend of mine and if you've ever seen her play in concert, you know she can play and sing. I guess they had built her up and she was no longer an underdog. She's wildly successful. You [critics] put them up there and you drag them down. I don't know how she survived it, but she did. The music business is tough. There's no getting around that."