BOSTON PHOENIX
September 2002

CD Review
By JON GARELICK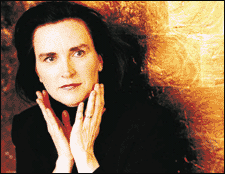 CROSSING OVER: Patricia Barber says that Joni Mitchell was a model for her new Verse.

PATRICIA BARBER, whose new Verse (Blue Note) came out last month and who'll play the Regattabar next weekend,September 19 and 20, also has ideas about covering pop tunes. The singer, songwriter, and pianist has a knack for offbeat choices: Sonny Bono's "The Beat Goes On," Bill Withers's "Use Me," Peter Green's "Black Magic Woman." What's surprising is that she can turn these pieces into real jazz, even if her ideas about how to do it come off as more blunt than Gershon's. "My opinion is that it has to come in the arrangement," she explains over the phone from her home in Chicago. "You have to smarten up the pop song somehow. If you don't do that, it's a complete failure." And as vehicles for jazz, she adds, "most pop songs do not have enough harmonic complexity to work."

For a lot of her fans, Barber is the jazz vocalist of the moment - not only for her arrangements of pop but for her incisive piano playing and her witty, original songwriting and vocal phrasing. Verse is all originals, full of her typical urbane allusions (Zeus and David Hockney get name-checked). The page doesn't do justice to " 'Guilt' like garlic/Needs to sauté with cream, butter, and wine" (from the new "I Could Eat Your Words") - you have to hear it delivered in her cool-bronze alto. But there's hardly any Barber piano playing. "In general, I kept piano out of it. It was a Joni Mitchell-esque recording, and I wanted it to sound more guitar-intensive."

Mitchell has become a touchstone for female jazz vocalists hoping to cross over to pop (see Cassandra Wilson and Norah Jones). "Above all the pop artists, she's the one that I find interesting. Her lyrics are interesting. I learned a lot about how to cram lyrics into a small space from her. Her instrumentation is pretty interesting - it's not as interesting as having jazz musicians really stretch out, but for pop it's pretty interesting. And I love her voice, love the way she sings, and she's prolific. So if I could do anything close to that, that's definitely what I'd be trying to do."

But Barber's goal is still jazz - "lyrics that work with songs that jazz musicians can play over." And her songs have as much to do with jazzheads like Dave Frishberg and Mose Allison as with Mitchell. Also on the new album is trumpeter Dave Douglas, who's worked with her in the past, and whom she calls "the most interesting jazz-trumpet player on the planet right now." She envisioned him in writing the tunes: "He can stay right near the heart of the song harmonically, and yet he can step outside."