WASHINGTON TIMES
Live Last Night: Patricia Barber
February 18, 2009
by MIKE JOYCE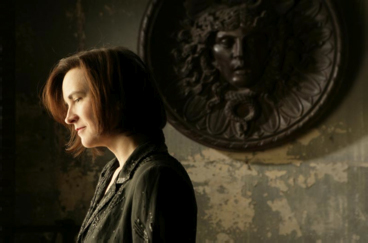 Jazz pianist and singer-songwriter Patricia Barber often brings a certain physicality and willfulness to her performances, and that certainly was the case at the Kennedy Center Terrace Theater on Friday night.
Performing barefoot and occasionally leaning over the keyboard to mute and pluck strings or to tap out a rhythm on the instrument's framework, Barber fashioned an absorbing, tangent-laced and all too brief tribute to Cole Porter with considerable help from guitarist Neal Alger and drummer Eric Montzka.
Not long after opening with a largely improvised take on "What Is This Thing Called Love?" that boasted intriguing harmonies and sly interplay, Barber departed from the "Evening Of Cole Porter" program without apology. Softly singing in Portuguese, she delivered a sensuous rendering of Antonio Carlos Jobim's "Triste" (perhaps Porter heard the tune on a cruise, Barber quipped). The highly percussive "Like JT" was another departure -- and a dramatic one. Inspired by pianist Jacky Terrasson, the Barber-penned tune showcased drummer Montzka's impressive power and agility, among other trio assets.
Even so, "The Cole Porter Mix," Barber's latest CD, served as a template for the concert, with Alger often producing clouds of atmospheric tones and a little twang. In addition to playfully updating Porter's "You're The Top" to reflect new political realities, Barber unveiled smart, engaging and genuinely distinctive interpretations of "C'est Magnifique" and "Get Out Of Town." She also performed "Snow," a prime example of her literate, moody balladry and a song that fit neatly alongside the Porter classics.