The Smart Party / Private Event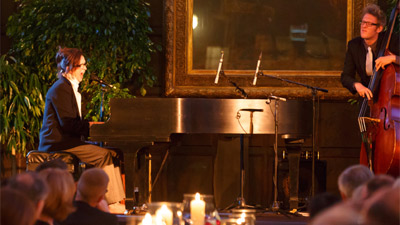 Witty, insightful and interactive, Patricia's "Lecture/Performance" brings "live" music into dialogue with diverse musical themes in a more intimate setting.  Ms. Barber has delivered these musical talks interlaced with performance at venues large and small, public and private including: Lincoln Center, Symphony Space (NY); The Gleacher Center, The POETRY Foundation Performance Space (Chicago), The Arts Club, award ceremonies, capital campaigns, and/or private events at Universities and private residences from Paris to Detroit to Rio and beyond.     
Patricia chooses a musical topic such as, "Animating the Inanimate" with regard to her own songwriting, "Cole Porter and I," "Rhythm and Rhyme," "Is Schubert relevant to jazz?," "Animating the Inanimate in Patricia's own music" "Patricia Barber's Artsong (sung by opera singers and jazz singers)" "Why do we love Brazilian music?," "What is Swing?" etc.
etc., then gives a pithy talk on the subject, highlighted by musical performance (with her bass player) illuminating the subject.  The tone of these events is entertaining, edifying, and elegant – ideal for smart, curious audiences of all kinds.  A dynamic Q&A may round out the event if desired.